It's time for another round of the Runners Tell All Linkup with
Amanda @ The Lady Okie
and
Beka @ Sunshine to the Square Inch
!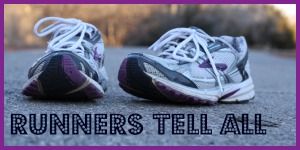 A lot of people are drawn to running because of its simplistic nature: all you need is a pair of shoes and and open road and you're ready to go!
Unless you're me, and a simple pair of shoes just isn't going to cut it. Here are some of my running faves and must-haves:
1. A good pair of shoes
Sensing a pattern? Nike running shoes seem to be pretty polarizing in the running community, but I've been on the Nike train for a couple years now. After trying a minimalist shoe and getting pretty bad shin splints, I went to my local running store for something with more support. I tried on a few and left with a new pair of hot pink and neon yellow Nike Zoom Elite 5's. I have now upgraded my short-mid distance shoes to the Elite 6's (the sherbert-looking ones, thanks Running Warehouse sale!) and for long distance I'm now on my 3rd pair of the Vomero+ 7's (which were discontinued during my marathon training, leaving me frantically scavenging the internet for days before finally finding a pair in my size).
And an honorable mention goes to my Newton Gravity's! As if these blinding colors weren't fun enough, these shoes are super speedy! Newtons are made with lugs on the bottom of the front part of the shoes to encourage proper running form. They kind of make you feel like you're running on the balls of your feet until you get used to them. They are great for short to mid-distances and are my go-to triathlon shoes.
I am so intrigued by these and dying to try them out! My local running store is have a test run this Saturday, so I may go to that. If I can find $160 in my budget for them before then, that is...because I know if I go, I probably won't want to leave without them!
2. Garmin Forerunner 220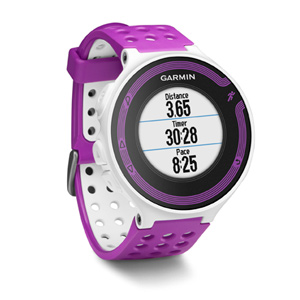 This thing is the bees-knees (and I would be a liar if I said the fact that it's beautiful purple had nothing to do with my purchase). I had a Nike+ Sportwatch that crapped out on me after 6 months, and when its replacement crapped out after another 6 months, I made the switch to Garmin and haven't looked back. I got the 220 a couple months after it came out and I've been so impressed with it. Not only does it sync up effortlessly and track distance accurately, it has so many features, half of which I'm sure I don't even know about. The screens are totally customizable - I set the one I leave it on to show me total distance, average pace, and total time. I can easily switch to the second screen which shows lap distance (which I set to be 1 mile), lap time, and lap pace. I thought that was SO convenient for intervals, until I learned that there is a whole setting FOR intervals. You can tell it exactly what you want your intervals to be, based on time or distance, and it will keep track of them and show you your pace and distance and all that good stuff during each one. Garmin also has an iPhone app that connects to my phone via Blutooth (since I always carry it with me, safety first people!). The app sends my husband (or whoever I want) a link so he can track me while I run, and when I'm finished, my stats from my run are already uploaded from my watch to the app and the GarminConnect website before I even finish walking upstairs to my apartment. Let me stop geeking out about a WATCH now...
3. Sweaty Bands
Who wants to be running along at a good clip and have hair flying in their face?! I don't. Enter Sweaty Bands. I know there are like a million versions of these things but this was the first brand I tried, and their headbands are cute, so I'm sold. I have about 5 I think (I got one randomly for free in one of my orders, not sure if that was supposed to happen or not but I'll take it!) and never run without one. I'll take one of each, please.
4. Cute but functional outfits. Now that we are officially in the spring season it's time to start swapping out the long sleeves and tights for shorts and tanks! Honestly, I have pretty much stopped buying shirts to run in because of the massive number I've collected from doing races. Sometimes I just can't resist, though, and when it's really hot, I prefer tanks to tees. As for bottoms, I like the swishy shorts (yes that's their technical name) over the skin-tight ones (I've never had a pair that didn't ride up and expose my bare ass, not a good look and not comfortable either). If I were about to make a Running Warehouse haul, this is what I would get (and since sharing is caring: you can get 10% off your order with the code "runblog10").
1. This
adidas Women's Run Tank
is so cute! If you put anything running-related words or phrases on clothing, there is a good chance I will probably definitely buy it.
2. I have a few pair of bright colored shorts but I ripped my only black pair (i.e. the most versatile) last year and am in the market for a new pair. These are the
Moving Comfort Women's Momentum Short
and if they're anything like the pair I have, they're unbelievably comfortable!
3.
adidas Women's Supernova Graphic Tank
4.
Oiselle Women's Mac Roga Short Black & Indigo
. Oiselle is a company I have been hearing a lot of buzz about lately. Their stuff is so cute and from what I can tell is really comfortable and made well.
5.
Asics Women's Emma Racerback Bengal Print
6.
Nike Womens Printed 2" SW Rival Short
. I haven't tried this cut of Nike shorts but the pattern (it's hard to see but there are alternating black and dark gray triangles) is a fun way to spice up an otherwise boring pair of black shorts!
Now to get these tired legs recovered from 2 marathons so I can put this stuff to good use!