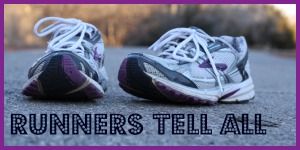 Of all the running pictures I could have shared today - all the official race photos, the selfies, the non-blurry landscape photos - I chose this one. Why? Because I took it on one of my most favorite and life-changing runs ever.
It was the morning of December 14, 2013 and I was up well before dawn for my long run. I was a little over a month away from my first marathon, and I was about to attempt my longest run to-date: the big 20-miler. I snapped this picture about 2 miles into the run. It was barely past 6am and I was so afraid of being out alone in the dark that early that a mile into the run I called Ben to come ride his bike alongside me. Even though it was a little eerie being out that early, there was something indescribably peaceful about it as well. I just remember coming up on the boardwalk and seeing it all lit up with Christmas lights, which wasn't even an unfamiliar sight, but something about seeing it that day, at that time, made it so different. I wish I could have stopped time so I could run in that moment forever, but taking a photo was all I could do.
Soon enough the sun came up and the miles kept ticking by. A run that had started so peacefully kept getting more and more exciting. I was running a 5k at 9am as the last 3 of my 20 miles, right on the same boardwalk where I started early that morning. I got to Mile 14 and saw the 5k runners making their way to the start line. At Mile 15 I passed a friend who was running the 5k, getting his pre-race coffee. At Mile 16, I crossed an intersection and looked to my left to see all the runners lined up at the starting line a block away, waiting for the race to start. I couldn't wait to get there. Another mile down, and I made it to the start line with a couple minutes to spare before the race started. For the first time in over 3 hours, I stopped moving - just long enough to fish my bib out from my race belt and pin it on before the horn sounded for the race to start. Those last 3 miles were some of the most magical I've ever run. Getting back to that boardwalk, with half a mile to go in my first 20-mile run, was one of the most indescribable feelings.
I think I experienced every possible scenario and feeling that make me love running that day: being alone, just me and my thoughts; running before dark and seeing the sun come up (being in the dark is scary but it's also really nice); running in the cold (my absolute fave, gahhh I hate summer); running a race; running with friends and family; accomplishing a new goal....this run had it all. If I could live that day forever on repeat, I would - even if it required running 20 miles every day.