I've been linking up with
Amanda @ The Lady Okie
and
Beka @ Sunshine to the Square Inch
every month since they started the Runners Tell All Link-up....except last month when I had 40 billion things going on and totally forgot. Whoops. But I am back for this month and I am SO excited because the topic is one of my most favorite things in the whole world: training! Lately I have felt my training has been pretty lackluster, but I've recently recommitted to it so this prompt couldn't have come at a better time!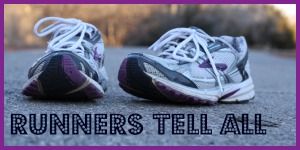 Before we get into this, you should really buckle up and brace yourselves because I am a Grade-A, 100% nutjob when it comes to my training. Just a warning.
After my first half marathon, I learned (the hard way) how important it is to follow a training plan. And I mean,
really
follow it. I know that doesn't apply to everyone, and I have friends who can more or less go out and wing a half marathon (which makes me sick), but I have learned that that does NOT work for me. What
does
work for me is putting in the work before race day, and showing up on race day feeling well-prepared. I think it's just as much a psychological thing as it is a physical thing. Train hard, suck less. That's my motto. The biggest thing I've learned when it comes to training is that it's not one size fits all. The following tips are things I've found to work for me:
1. Pick a training plan.
There are a million options out there, and sometimes it can be really overwhelming, especially if you're training for a big race for the first time. Unfortunately, this may require some trial and error. One thing I generally look for is frequency of runs. If the plan calls for more than 4 days of running per week, it's not for me. I know from previous experience that that is not something my body can handle. Another thing I look for is length of time. Generally I prefer to have more time for training than less. However, there is such a thing as too much time. If a training plan is too long it can lead to burn-out. With those things in mind, Hal Higdon is my go-to source for training plans.
2. Don't be afraid to modify it.
The training plan you choose doesn't have to be the end-all be-all of your training. For my first half marathon, my training plan called for one 10-miler, and I added a 13-miler just for funsies. When race day came, I really didn't feel that my training had prepared me to feel comfortable enough with the 10+ mile territory. So when it was time to train for #2, I had 5 long runs of 10 miles or more, and I felt way more comfortable going beyond that on race day. I did the same thing when I trained for my first full marathon. My plan called for one 20-miler but I was afraid that wouldn't be enough, so I did that as well as an additional 22-miler. Running is so mental for me that I've found it really helps me to get close to race distance at least a couple times, even if that's not what my training plan tells me to do.
3. Make a spreadsheet.
I am about to unleash a whole new level of crazy on you guys. Are you ready for this? When I make a new training plan, this is what happens:
Spreadsheets for daysssss, baby. Maybe (probably) this makes me a lunatic, but honestly, I see it as being really practical. Making a spreadsheet gives me an overview of how I'm going to get from today to race day. It also allows me to see what other plans or commitments I have before race day, so I can anticipate them and plan accordingly. Also, I just really like spreadsheets.
4. Keep track of your progress.
The other benefit of having a training spreadsheet is that it's like a 3-month long to-do list, so I get the satisfaction of checking off workouts as I go along. One thing I like to do sometimes is go back to previous training logs to compare how I was doing then to how I'm doing during this training cycle. I even have a separate page on my current training plan spreadsheet
just
for that purpose (told ya I'm nuts). I've used various sites (
Runkeeper
,
Nike+
,
DailyMile
,
GarminConnect
) to keep track of all my runs since Day 1, and as a data nerd, I am so happy that I can look back and see how far I've come.
5. Embrace it.
I think burnout comes with the territory and we're all bound to experience it sooner than later. I think it's important to know that it exists, it's normal, and it will pass. There's no right or wrong way to deal with it. Some people just need to grit their teeth and get through it, others need to take time off. But as corny as it sounds, whether you're training for a 5k or an Ironman or something in between, you're working toward something amazing that relatively few people will ever actually achieve. The fact that you even wanted to train for something in the first place is huge, and having the physical and mental capacity to do so is a gift. So embrace it and love the roller coaster that is training for all its ups and downs!