As of today it has been 1 month since we moved into our new apartment. I was hoping/planning to have it all done after a week and, to be honest, it mostly was. The last 3 weeks have been really busy and there have been little things left that we've been neglecting to do, but I've been working my way through them and I think it's finally about as good as it's going to get.
I've taken photos of every home we've ever lived in (4 and counting...5 if you count the townhouse we shared with roommates in college, but there are no pictures and it wasn't picture-worthy anyway). I love being able to look back at them and see how our spaces have changed over the years. This new apartment is definitely the biggest change we've ever made: it's just over half the size of our previous home (and the smallest we've ever lived in). I was equal parts nervous and excited about downsizing, but after a month I can definitely say that I LOVE it. The best part about this move is that we didn't spend much at all furnishing or decorating it. We were able to box up the rooms in our condo and set up the new rooms almost as they were. We've had to get a little creative to make everything fit, and not all of our solutions are the most attractive, but I like to think we've struck a pretty good balance between aesthetics and efficiency.
Small living tip:
Rent a place without a washer and dryer. Bonus tip: Rent a place without a washer and dryer that's also located right next to the building's laundry facilities. It's basically like having laundry in your apartment but without it taking up space in your apartment. Win-win.
Come on in! (apologies for the wonky colors...combination of crappy apartment lighting and not knowing how to use my fancy camera)
This is the view right when you walk in the front door. We'll check out that space in a minute, but first we'll look at the living room, off to the left.
Our old living room was
much
bigger (we had an open concept living/dining/kitchen area), so fitting all of our furniture in was a bit of a challenge. We purchased the sectional and ottoman 3 years ago, specifically for our condo. We love (and paid a pretty penny for) it, so getting something new wasn't an option. We had to make it work!
Small living tip:
Put up a gallery wall! It's an easy way to display a lot of photos or prints without using a lot of your limited wall space.
The view out the back is honestly what sold us on this apartment. At the bottom of that hill is a trail that connects to a trail to campus and to a popular running/biking trail (another selling point). On the other side of the trail are several pastures with our new cow, horse, and sheep friends!
So technically the space you see when you walk in is the dining area (note the super stylish light fixture and fan). Obviously, we aren't using it for that...
We both bike commute and needed some way to store our bikes. We wanted to store them inside and utilize as much vertical space as we could so we opted for a 2-tier bike stand. It probably won't be featured on any interior design blogs anytime soon, but it's efficient so we love it.
When we lived in our condo, our favorite space was probably our hallway. That may sound weird, but it's because it was home to our masterpiece: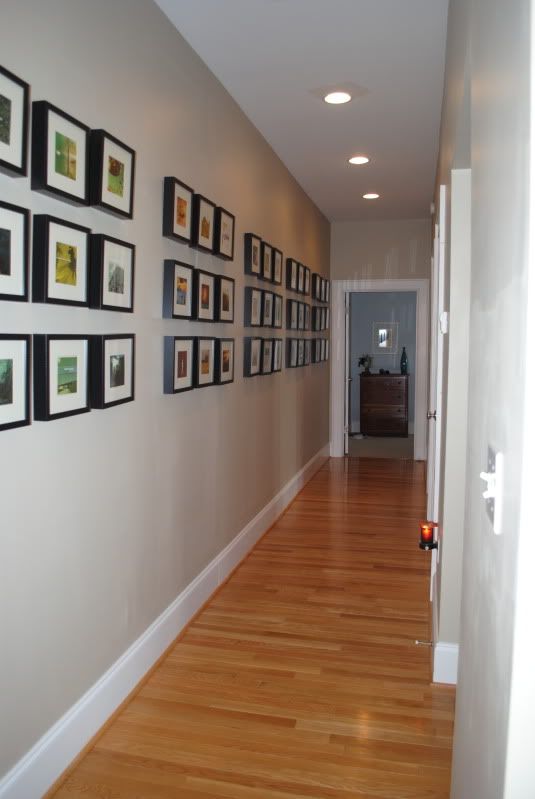 Although we no longer have a 20+ foot wall to cover, we did want to bring a piece of our album art project to our new apartment.
Small living tip:
Make sure you have room for a bar. You will probably need it now that you have to live in closer proximity to your significant other.
So what's behind Screen #1?
I'm sure I've mentioned before that I don't work out in a gym. I like to get my workouts in as close to home as possible, so it's great that most of them, like running and biking, take place outside and I can leave right from my front door. But then there are some, like strength training, that I can't really do without some equipment. Even though I have access to both our apartment's and the university's gym facilities, both are farther away than a 10 foot walk, and therefore they are both too far. Ergo, moving my gym equipment (which we used to keep in our spare room with other unsightly things we wanted to easily hide) was pretty much non-negotiable. Only one problem: in a 1-bedroom apartment, there
is
no extra space to shove the things we don't want to look at all the time. Luckily, I am a genius and came up with a solution. Is it ideal? Of course not. Is it liveable? Absolutely. Remember, when it comes to aesthetics and efficiency, I'm shooting for
balance
.
Off to the left of that space, between our album frames (and Bane's crate) and the bar area, is the kitchen. It's actually a pretty decent size. We managed to squeeze in all of our countertop items, and there's even enough room for our table and chairs in the corner.
Small living tip:
Get a pot rack! We've had this pot rack since our first apartment, didn't need it in our condo, and are now very thankful that we kept it all these years.
In the back of the apartment are our bathroom and bedroom. The bathroom is actually about the same size as our master bathroom in our condo, so no huge loss of space there.
And finally, our bedroom!
We've had our bedroom set the longest of any other furniture in our home...probably the longest of anything in our home actually (except for one of our cats). We purchased it at Ikea when we moved into our first place together and, many bedding iterations, a headboard DIY, and a dresser makeover later, it's still with us.
I bought this bedding from West Elm a few years ago, but we only used it briefly before switching back to a bolder rust/chocolate/ivory color scheme for our bedroom. I envisioned our new bedroom being really serene and calming, and I'm so glad I hung on to this duvet set because it fit the bill perfectly. Seriously, our bed always looks so comfortable and inviting to me. I love getting in it at night and reading until I fall asleep. So peaceful.
I don't love the fact that my vanity is half-finished (we decided a week before we moved to redo it...we made it through stripping the paint that was on it and preliminary staining before we ran out of time and had to pack it up), but I love my makeup setup. It's so nice to open the blinds in the morning and get ready with natural light. Plus I love having all my products stored so nicely and compactly.
And that's it, all 725 square feet of it!
Mirror - "rescued" from the dumpster. Seriously.
See ya later!