If I had to pick one word to describe my approach to the summer months, it would be: survive. The heat and humidity of the summer make me feel sluggish and uninspired, but fall? Fall always feels like a fresh start, my reward for all my suffering. Yeah, yeah, it's not quite fall yet, but it's also not really summer anymore. So sorry to all you summer lovers mourning your loss. I'll be over here partying with these people: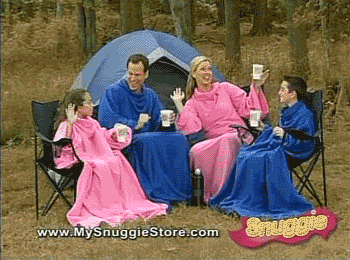 Here's how I plan to make September the good, productive month it should be:
Schedule at least one post per week ahead of time.
I blogged fewer times in August than any month since I started blogging. When life gets busy, blogging is the first thing to go. I've even gotten behind on reading and commenting lately, which I hate because I love talking to and seeing what's going on with you guys! I have to figure out a way to stay active in blogging without it being a total time suck, and I think one way for me to do that is schedule my posts ahead of time. It's not realistic to write them all in advance, but I'm aiming to have at least one per week ready to go. If you have any tips on how you stay not totally overwhelmed by all the posts/comments/tweets/etc. please tell me your secrets! I honestly don't get how some people do it.
Spend the extra five (or fewer) minutes.
I've always been really bad at this. I toss my clothes on the floor instead of throwing them in the laundry basket. I leave clean clothes in the laundry basket, folded but not put away. I leave my workout gear all spread out instead of putting it away. I leave dishes on the counter instead of rinsing them off and putting them in the dishwasher. You get the picture. I get so obsessed with saving an extra 30 seconds that I create a lot more work in the long run. This is a bad habit that I really want to break, and I'm choosing to work on it this month.
Avoid alcohol (for the most part).
The one time I did manage to
pop my head in
here last week, I mentioned that I was joining a few others ladies for a "Sober til October" challenge. While they've committed for a full 50 days, I'm giving myself a pass for 1,
maybe
2 drinks at the following events (which were planned well before I started this, and I don't even know for sure if there will be alcohol offered at them):
Giant Acorn International Triathlon post-race party, September 28
a friend's wedding on October 4
Hokie Half Marathon post-race party, October 12
(P.S. I just realized I hadn't actually linked to the blogs that are hosting the challenge in my previous post - that's what I get for posting on my phone I guess. If you want to learn more about these ladies or the challenge or join in yourself, now you
can
click on the picture!)
No internet/computer/phone after 9pm.
I started doing this a little bit this past week, not really intentionally but because I was reading a book and preferred to do that before bed instead of the aforementioned activities. I really liked it and thought I'd challenge myself to see if I can keep it up for the whole month.
Complete Erin Motz's newest yoga challenge.
Just what I need to feel refreshed and ready for a great month! (Pssst....you can get in on the action
here
!)
How are YOU going to make your month awesome?!